This hard working blogger – who is also a self-confessed Brat Pack actor lookalike – and I did a post swap. I'm adding his post on his fave actress, Michelle Pfeiffer (coincidentally with one of my fave comic actors, Paul Rudd) in
I Could Never Be Your Woman
(2007). In our post exchange, Michael added my post on his doppelganger Andrew McCarthy (
HERE
) to his blog. 
If you want to read more of Words Seem Out of Place's posts his blog is
HERE
and he can be followed
HERE
on Twitter.
A wee introduction to Words Seem out of Place in his own words…
Michael Robert is your typical Gen Xer: cynical, sarcastic, hopeful, world-renowned expert on Michelle Pfeiffer. Your standard stuff, really. You can read his pop culture musings at The After Movie Diner, HiLoBrow, Sequart, Horror Geek Life, The Retro Network, and elsewhere, including his blog, Words Seem Out Of Place.
Now to his post…
Michelle Pfeiffer : I Could Never Be Your Woman (2007)
Revisiting and celebrating the work of Michelle Pfeiffer, the best actress of my lifetime.
Few films in Michelle Pfeiffer's filmography feel more like they were created specifically with me in mind than I Could Never Be Your Woman (2007).
Stay with me here.
Pfeiffer's costar and romantic lead is Paul Rudd. I love Paul Rudd. People have said that my humor and overall demeanor reminds them of Rudd. We're both younger than Pfeiffer—Rudd by eleven years, me by seventeen. His character, Adam, falls in love with Pfeiffer's character, Rosie, age disparity be damned. Do you follow me? At one point, Rosie sarcastically cracks to Adam, "Oh my god, you used comedy to cover up for feelings of inadequacy," and it becomes blatantly obvious that she's really talking to me.
Look, it's silly, but a movie where Pfeiffer and Rudd playfully canoodle as adorably as anyone has ever canoodled in the history of canoodling is destined to be a personal favorite. It sends my pfandom into overdrive. It's a briskly fun and frothy hour and a half of wish fulfillment come true for me.
Right now, as you read this, in some alternate universe I'm wooing Pfeiffer exactly like Rudd does in the film, by leaning hard into the only real strengths I possess: being charmingly geeky, unfailingly self-deprecating, and making her smile at my silliness whenever possible.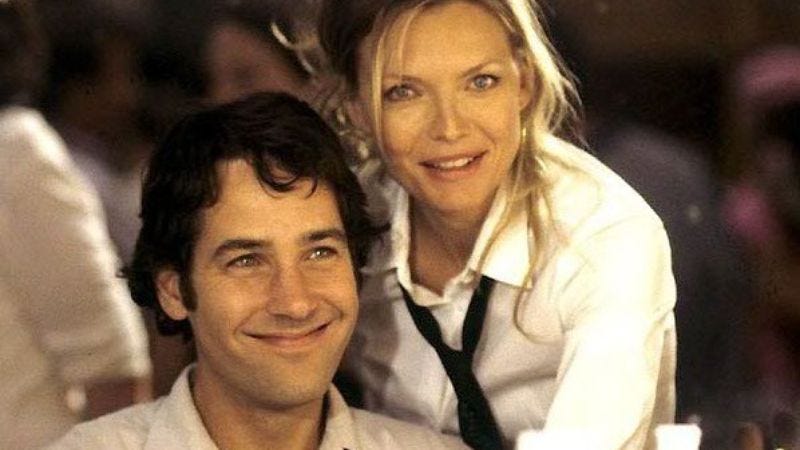 Listen, a guy can dream. And this guy has, trust me. You probably have too, so quit judging. I Could Never Be Your Woman stands as a testament to Rudd-like pfans like me. As goofy as it sounds, it makes us feel like not only might Pfeiffer appreciate our dorkier qualities, she might even love us for them, too.
If all of this is making you cringe, just relax. While the film has likely taken on great personal significance for legions of Pfeiffer pfans like me who see more than a little of ourselves in Rudd/Adam, it's also directed by Amy Heckerling (director of classics like Fast Times at Ridgemont High and Clueless), who ensures that the romance between the leads is never anything short of sublime. She also wrote the film, and there's a lot of enjoyment to be had in this look at men, women, and how the sexes handle aging differently. Sure, things gets silly, but that's part of its charm.
Heckerling must've know she'd struck gold with the Pfeiffer-Rudd combo, and she honors their chemistry by filming them in plenty of long, two-shots that afford the actors the chance to play off each other beautifully, and for us to witness it all as it unfolds. That spark, that jouissance, between them, is simply magical.
Adam treats Rosie with genuine love and affection, never hiding his attraction under false modesty or pretense. Adam's the sort of geek who's comfortable with himself. It likely took Adam—and maybe even Rudd himself—years to get to that point. It certainly did for me.
You can see how much fun Pfeiffer had with Rudd making this mostly sweet and entirely underrated film. Their scenes are delightful, and you get the impression they were really making each other laugh that much, that hard, even behind the scenes. Pfeiffer is held on a pedestal by most, and especially by pfans, yet one of her overlooked strengths as an actress is just how relatable she can be, no matter the role. Rosie is the kind of woman you want to know. She's quick-witted, smart, playful, and genuine.
There's a more thorough, critical analyses to made about I Could Never Be Your Woman, and one day I'll write that. But the film makes me feel such pure joy, that all I really came here to do was gush about why that's the case. With Rosie, Pfeiffer crafts one of her most lovable characters, imbuing her with the sort of desirable qualities that would make anyone with a beating heart fall for her, whether she was Michelle Pfeiffer or not. That she also happens to be Michelle Pfeiffer only further sweetens the pot for this Pfeiffer devotee.
A big thanks to Michael Robert for letting me republish his fabulous post.  Financial compensation was not received for promoting this post. All opinions expressed here are his own. I would also like to add that he kindly personally agreed to me using pictures from his post on my blog. If you are involved in the entertainment or blogging industry and would like to be featured or promoted here, please drop a line to me via my Contact Me Page.
Related